Yesterday, after spotting an "as yet UFO" over Finnsnes, a quick search of our local newspaper's website revealed almost identical photos to mine sent in by others, and a visit to the NRK (Norway's public broadcaster) turned up a story about unusual lights in the sky over the island of Svarlbad (about 1000 km / 600 miles north of us).
It turned out to be a 21m / 65′ rocket (well spotted Pete Dubay), launched from Andøya Space Centre. Yes that's right, Norway too is in the space race, and the equivalent of Cape Canaveral is about 60 km / 40 miles away. I should really have thought of it straight away as Susanna has visited as part of her physics course.
Whilst it was a peaceful mission, the rocket in question (a C-REX, yes really!) was carrying a 'nuclear payload' as part of a study into daylight aurora, which of course you can't see. I'm still trying to find out if the same researches have decided if grass is green in the dark, etc. There are some mission photos here (not mine, I haven't been to Svalbard. Yet).
Sadly, not all missions from the Andøya Space Centre are successful. In September last year (2013), residents of nearby town Andenes got a bit of a surprise when a rocket came down in the sea just outside their harbour. An article with pictures is here.  The Space Centre's spokes person said he didn't know what went wrong – the Australian rocket wasn't supposed to land there! However, having examined the trajectory, I have a theory: maybe it was fitted with some kind of homing device which the Australian manufacturers forgot to recalibrate for Norway . . . and therefore the rocket was simply taking the shortest route home: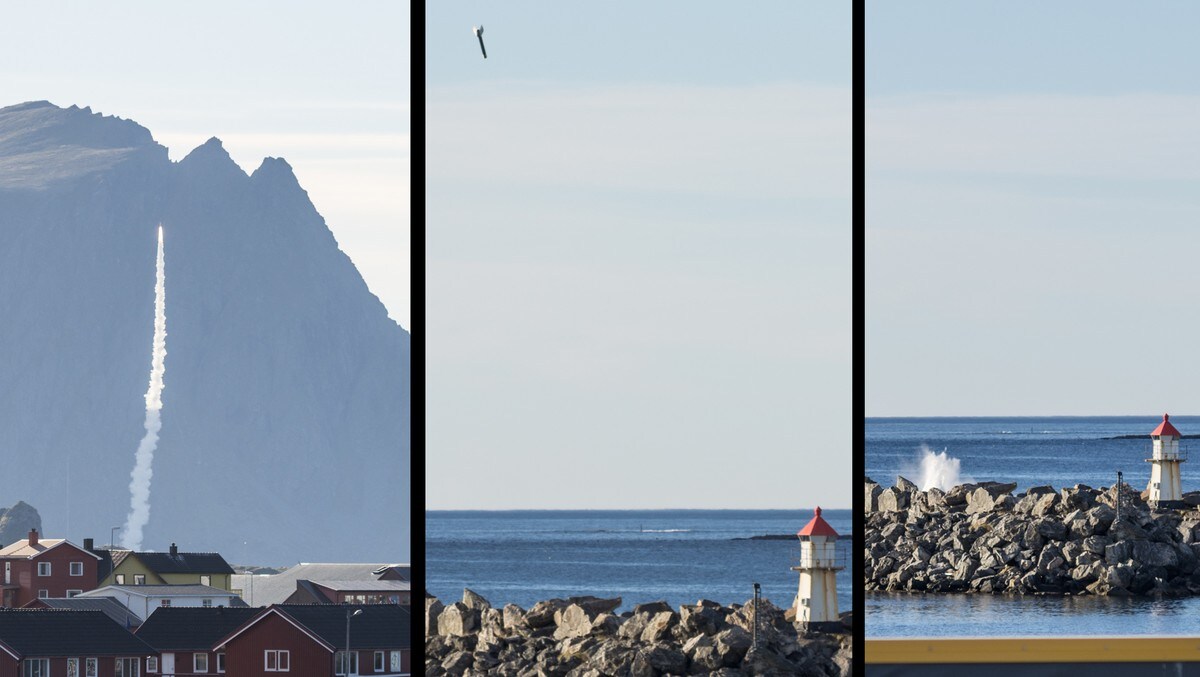 The local residents and the mayor were not impressed and they want answers. I am considering emailing them my theory, and the other possibility tyngdekraften – GRAVITY (literally heaviness power).
Anyway, mystery solved.
Two final thoughts:
I'm investigating the location of our nearest tilflukt (public refuge / bomb shelter) just in case Finnsnes finds itself an accidental target!
Ponder the mystery of why in Norway, if you crash your boat at sea you have to tell the police, but if you crash your rocket, you apparently don't.